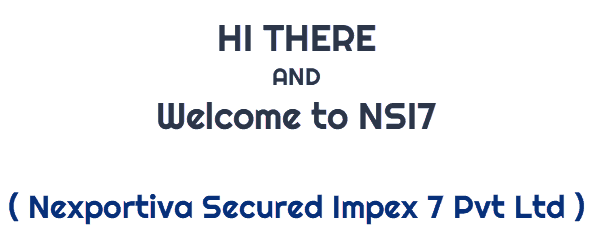 We are not going to take much time to explain about our company.Here is the quick details that will help you to know about our business and company profile.
We have incorporated our company very recently July 2019.You can check our company details from Ministry of Corporate Affairs, India.The official Govt. website is – http://www.mca.gov.in/
CIN : U52190WB2019PTC232808
Registration No : 232808
The particular page to check company is – http://www.mca.gov.in/mcafoportal/showCheckCompanyName.do  (Just type our company name and you can see the details)
WHO
We are the supplier,exporter and work as direct sourcing partner.If you need bulk items at lowest price without compromising the product quality,you can request a quote from us.
WHAT
We supply different category products to our clients on regular basis.You can explore products from product page.Here we have listed all available products that we can offer instantly.
We are looking forward to fulfill your order. Keep smiling & Have a nice time !!
Head Office & Registered Office
Nexportiva Secured Impex 7 Pvt Ltd Badulia,Sagrai Burdwan, Bardhaman Bardhaman WB 713101 IN 9:00 – 18:00 (Mon – Fri) CIN: U52190WB2019PTC232808 Registration Number: 232808
Facebook : https://facebook.com/pg/NSI7.Official.india
Twitter : https://twitter.com/nsi7_official
Google + : https://g.page/nsi7_official