Learn how to verify a company and make safe transaction with merchant
Whether you deal with us or somewhere else,its our duty to inform you how to verify any company and make safe online transactions.
In this section we will show you step by step process,so that you can check company whether exist or not.Our main purpose is to secure your every transaction just providing exact information.
The entire process is applicable only for companies in India.However,you can apply the same method for other country,there official Govt website would be different and data too.
Method 1 (Company Registration & Documents)
The most important part which you need to know whether the company is registered at MCA (Ministry of Corporate Affairs) or not.Its very simple to check online on official MCA website : http://www.mca.gov.in/ . All companies are required to regsitered on this portal.You can find different category company like private Limited,One person Company,Proprietorship,LLP etc.If you see the company data exist,that means it is fully verified and genuine organization.Here is the checking process with screenshot :
Visit : http://www.mca.gov.in/
Jump to MCA Services from the Top menu tab & click on "Check Company Name"
Now enter company name and click on search button.It will show company details like CIN (Corporate Identity Number),Company name,State it belong,incorporation date and company status (Allocated means company is active and fully operated)

Method 2

(Payment Terms)
The second way to ensure how company accept payments from their clients.If you find insecure or shady methods such as only paper check or cash,it may be a red flag from the buyer aspect.While dealing business online,the most safest way to pay and get paid via electronic payment providers.This is safe because you can raise a complaint to the payment processor regarding any business issue.For international clients exporter needs to follow certain payment incoterms.
Method 3 (Business Website & Contact Details)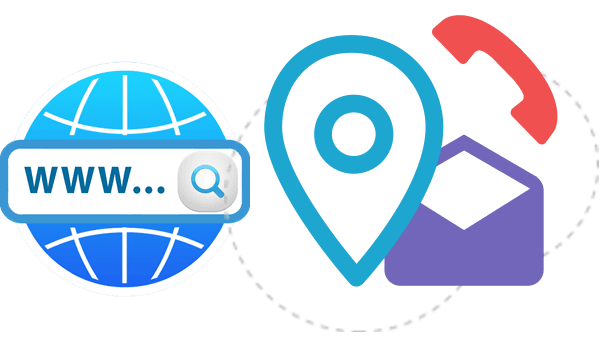 Almost all legitimate companies they have proper contact information for their clients.A company may have only offline business but they should have office address along with contact number.For online business a legitimate website with proper content and contact number is mandatory.You can find official logo,official email,phone number,office address at their web portal. Missing all these information indicates company does not have good business practice.Below you can find NSI7 website & contact details :
Method 4 (Terms & Conditions / Privacy Policy)
A legitimate company maintains a lot of transparent policies.These information helps their clients to understand their business rules.Each company has their own terms and conditions,privacy policy,quality policy.You should not ignore these facts while making the final deal.Therefore please verify whether a company unfold these information to their customers.You can find our pages :
Method 5 (Social Media Presence)
Social sites are powerful platform for each company and business.It helps to connect with their right audience.Therefore social pages are the most important sign for all legitimate companies.You can directly contact the service provider through social pages.When you land on the page,please verify the particular social page is the official platform for particular company.You can check logo,official website linked there,similar content type etc. Check out our social media pages quickly :